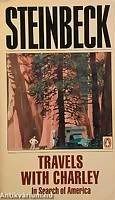 For the
What's in a Name?
challenge: A book with a place in its title
Book:
Travels with Charley in Search of America
by John Steinbeck
Pages: 277
Entertainment Rating:
4.5/5
Snooty Rating:
4.5/5
Total Rating: 9/10
Books Read Total: 4/50
Pages Read Total: 1066/15,000
Steinbeck really does something for me. I didn't like
The Grapes of Wrath
but I loved the sense of connection it gave me and the cultural references it informed. Neil Young songs took on a whole new meaning.
Travels with Charley
gave me the same feeling of awareness, though I didn't go into the book feeling that way. If you want a taste of this country, read Steinbeck.
Travels
was written with much more humor than
Grapes
but it is still a critical observation. Steinbeck and his dog, Charley, travel across the country in a pick-up with a camper top, "rediscovering" the country that has changed so much in their lifetime. The relationship between these two is comical and endearing. I think what makes Steinbeck exceptional is in his talent for humanizing. He conveys emotions, characters, and connections in an accessible and natural voice, and makes no effort to raise himself above basic human reactions and thoughts.