Yes indeed. My favorite bead store ever needed part time help, and there I was! I'm working at the bead store all summer! I foresee my paychecks going straight back into the business, but I don't feel the least bit upset about that. Plus, I get to take classes!

Additionally, this is my new favorite design. I'm in love with briolettes, absolutely taken with them. I doubt I'll ever be the same!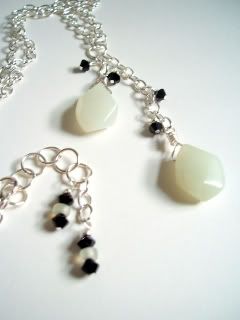 This lovely piece is made with two sweet little New Jade briolettes and a smattering of Swarovski Crystals. It's for sale on my Etsy page, you can find it
Here!